Beauty & Self
Books & Music
Career
Computers
Education
Family
Food & Wine
Health & Fitness
Hobbies & Crafts
Home & Garden
Money
News & Politics
Relationships
Religion & Spirituality
Sports
Travel & Culture
TV & Movies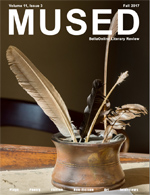 Autumn is a season for counting our blessings. For realizing just how much we have in life where so many others are without. It can often be easy to take things for granted. Things which millions of people desperately dream of having. By pausing for a moment, and looking around with mindfulness, we can find a new center. Begin with fresh energy.

Enjoy the Mused Autumn Equinox 2017 Issue



Noxzema Classic Clean Review
Body Care - BB Lee, Editor

Noxzema Classic Clean Original Deep Cleansing Cream Review




Foul Fetid Femurs Recipe
Quick Cooking - Karen Hancock, Editor

If you're featuring an edible dead body at your annual Halloween BOO-ffet like I am, you'll want to use these yummy honey mustard chicken legs as thigh bones. They'll be very popular, so make plenty.




INTERVIEW 1 Gary Petras
SF/Fantasy Books - Evelyn Rainey, Editor

First of two interviews with Gary Petras, fantasy author




Sewing and Rag Rugs
Sewing - Cheryl Ellex, Editor

With rustic hospitality assembled into stunning folk art or unstructured design, unassuming strips of wool fabric, thin thread-worn bed linens, denim jeans and shirts made soft by much wearing, today's modern t-shirts and more are economically transformed into humble and functional floor coverings.




Homemade Bathroom Cleaning Product
Cleaning - Tammy Judd, Editor

Have a good arsenal of homemade cleaning products is a sure way to save money and have a healthy home!




The Dangers of Counterfeit Cosmetics
Cosmetics - Katrina Simmons, Editor

Saving money on cosmetics is everyone's dream. That dream may come with a high cost, however, that I'm sure many of us are not willing to pay. The risks of buying knockoffs in the beauty industry is to take a serious gamble with your health. Learn the dangers of buying fakeup, and how to avoid it.


| Google+ |
E D I T O R R E C O M M E N D E D
Bird by Bird by Anne Lamott


A funny, unpretentious, sympathetic look at the writing life. The section on allowing yourself to write a crappy rough draft (so you can get it done in the first place) is worth the price of the book alone.
Best Sweepstakes Newsletter Subscription


Best Sweepstakes is an excellent way to keep up on the latest sweeps and contests via online, snail mail and text entry. It´s been around for years and is a trusted newsletter among sweepstakers.
Ordinary People as Monks and Mystics


This non-denominational book is appropriate for any religious path, and helps you to explore your spirituality whether you are more of a mystic or more of a monk. Both approaches are valid.