Beauty & Self
Books & Music
Career
Computers
Education
Family
Food & Wine
Health & Fitness
Hobbies & Crafts
Home & Garden
Money
News & Politics
Relationships
Religion & Spirituality
Sports
Travel & Culture
TV & Movies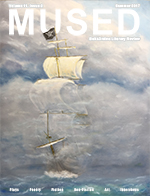 Our time on this Earth is fleeting and precious. We often know that in a vague, intellectual sense, and yet we can find ourselves whittling away those finite minutes without mindful thought. We should celebrate the beauty in a child's smile. The radiant sound of saying "I love you" to that special person. The warm touch of a hand. The delicate scent of a wildflower.

Enjoy the Mused Summer Solstice 2017 Issue



Alphabet L - Z Anna Valeire Book 3
Tatting - Georgia Seitz, Editor

The Tatted Alphabet by Anna Valeire Book 3 pg. 15. Tatted initials are handy for many projects. And added flower or decorative picots are just fine, too.




Exercise or Weight Loss to Prevent Heart Disease?
Nutrition - Moss Greene, Editor

Which is more important for heart disease prevention - weight loss or exercise? Recent research done by the American Medical Association may surprise you.




Kolhapuri Mixed Vegetable Curry Recipe
Indian Food - Sadhana Ginde, Editor

My tasty Kolhapuri Mixed Vegetable Curry has its origins dating back to the ancient Maharashtrian city of Kolhapur. Traditionally, this dish is meant to be eaten spicy - but feel free to adjust the spicy heat levels to suit your palate. This dish is a great way to use fresh seasonal vegetables.




Tacos and Beer
California - Korie Beth Brown, Ph.D. , Editor

Looking for amazing road food? You'll find it at this tiny Beaumont restaurant.




Using Up Leftover Yarn
Knitting - Korie Beth Brown, Ph.D., Editor

No money for yarn shopping? Go through your stash and see what you already have! Here's how to create a project from leftover yarn!




Mini-Asana Using a Chair
Yoga - Korie Beth Brown, Editor

This asana can easily be done in your office, so you can take a break from working at the desk!


| Google+ |
E D I T O R R E C O M M E N D E D
God Underneath


Spiritual Memoirs of a Catholic Priest, By Edward L. Beck. Each chapter contains a scripture passage and personal tales revealing God's presence in everyday life. Fr. Beck is a member of the Passionist community and travels throughout the country preaching and organizing retreats. I highly recommend this wonderful book and have personally attended several of Fr. Beck's inspiring parish missions.
Your Adoption Guidebook


Considering adoption and not sure where to start? This handy guidebook is for you! You'll find everything you need to decide if adoption is the right path and then learn how to begin the process.
Heart Strings - cozy mystery


She's certain she knows who the killer is, but will she be brave enough to confront the murderer for the scoop of a lifetime? This quirky cozy mystery is sure to keep you entertained and guessing to the last page.