Beauty & Self
Books & Music
Career
Computers
Education
Family
Food & Wine
Health & Fitness
Hobbies & Crafts
Home & Garden
Money
News & Politics
Relationships
Religion & Spirituality
Sports
Travel & Culture
TV & Movies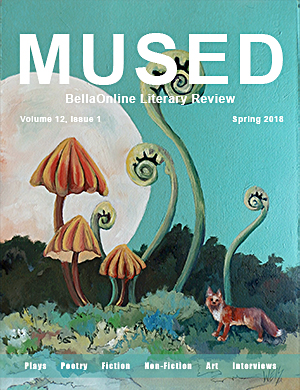 It can seem sometimes as if our world is whirling faster than we can keep up with. It can become overwhelming. Exhausting.

A balm which rejuvenates is to explore the creative efforts of individuals around us. To begin, turn off the noise and clatter of the world at large. Take a deep breath and instead focus on connecting with one fellow human being who presents their jewel of a thought to you. Examine it mindfully. Consider its meaning. Soak in the moment with this one human. Then connect with another. And another.

Enjoy the Mused Spring Equinox 2018 Issue



Moons of Uranus – Facts for Kids
Astronomy - Mona Evans, Editor

William Herschel was the first person ever to discover a planet. In 1781 he discovered the planet which was named Uranus for the ancient Greek sky god. Although Uranus has at least 27 moons, most of them weren't discovered until the Space Age.




I brought the sunshine to the UK
Romantic Getaways - Marianne de Nazareth, Editor

The sun is shining here in Woking, London and it's fun gardening in the warmth




Friendship
Family Health - Danielle Barone, Editor

The Healing Power of Friends




Plants for Biblical Gardens
Landscaping - Connie Krochmal, Editor

A large number of plant species are suitable for Biblical gardens. Here are some suggestions.




Canvas Drop Cloth Projects
Sewing - Cheryl Ellex, Editor

The preferred protective covering of painters and remodelers everywhere, relatively inexpensive drop cloth fabric can be seen today in chair and sofa slip covers, table runners, curtains, casual throw pillows, market totes, and even floor coverings.




Double Chocolate Cranberry Walnut Drops Recipe
Desserts - Karen Hancock, Editor

Warm weather means homemade ice cream, and homemade ice cream need good accompaniments like homemade cookies. Drop cookies are quick and easy, and these are decadent.


| Google+ |
E D I T O R R E C O M M E N D E D
Eagle One is 2nd to None!


Everyone should have the basics to keep their rides shiny and road ready. The only way to do it is with Eagle One all day long!
Ultra Luster Waterless Car Wash


Ultra Luster Waterless Car Wash: Article Coming in Spring but you can buy it now! Waterless Car Washing just got easier and the results just got better! Get yours now at: UltraLuster Wash, Phone: 877-677-4463, Email: sales@ultralusterwash.com, distributors@ultralusterwash.com shipping@ultralusterwash.com customerservice@ultralusterwash.com
Low Carb - First Two Weeks


Get instant access to step by step instructions, handy tips to get you through the rough spots, background information on low carb dieting, and more.